Simon: "Education and books set me free."
Simon Short, 31, has spent the past three and half years since leaving prison developing a social enterprise that aims to reduce reoffending after he studied an Open University degree funded by PET in Psychology during his sentence. He says: "Education and books set me free."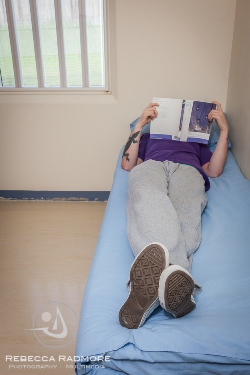 As a teenager and young man Simon was involved in Manchester's inner-city gangs and spent 16 years in 25 different young offenders' institutes and adult prisons until study gave him the inspiration to change his life.
In addition to his degree, Simon also studied counselling courses in prison and he began helping other people with their problems. He has continued to do that for The Intelligence Project, based in Grimsby, where he works to help people with convictions and young people involved in crime or anti-social behaviour across the North East.
But he says he would never have had the skills, knowledge and perhaps most importantly, the confidence, to follow this career path on release without further education.
Simon Short, Managing Director, Intelligence Project, says: "I was sponsored by PET to do my OU degree, the course gave me confidence. I've now founded a social enterprise that last year turned over £150,000 and we only employ ex-offenders. We navigate people through their licenses and issues like disclosure to start new lifestyles."
Simon also got involved in a prisoners' council as the lead member on the education and training representing the ideas and concerns of his peers to the prison senior managers. He says this helped him understand his rights as a person and indeed that his voice could and should be heard.
In addition to his work for the Intelligence Project Simon supports PET as a member of its alumni network and advises the charity on its learner voice policy projects. Earlier this year he spoke to the Independent about the importance of books in helping to rehabilitate people in prison.