Jon: "I changed from a prisoner to a student"
Jon writes: "When I first entered prison, I was despondent. The reality of my crimes, their effect on my family and friends and my change in circumstances took their toll. I had been sentenced to 14 years, a seriously long time. Don't get me wrong, I was guilty of my offences and felt terrible about them. The sentence was fair, I deserved it. I lost everything on the outside: my home, my job, my car and just about all material possessions. My family and friends were soon reduced to only two people on distant shores to correspond with. I've had no visits or phone calls. It really couldn't be worse. But it was.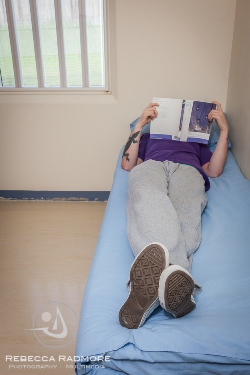 Prior to my arrest, I was a professional management consultant. I had spent the last 25 years advising companies on their IT systems. This entailed flying around the world and working with the biggest names in financial services. However, once I had been convicted of my offence, I would never be able to gain the security clearances to work in this capacity again. My livelihood was gone.
It's difficult to describe how low I felt. On top of learning to adjust to a harsh prison environment, life in the distant post-release future seemed bleak.
I got a job in the prison laundry and buried myself in the library, reading book after book. I just existed from day to day, falling deeper into depression, giving up on life.
A few months after my sentencing, I was transferred to be 'B cat' jail, HMP Parc. Within a few days, I was told about a room where inmates were allowed to pursue correspondence courses. Intrigued, I then spoke to a prisoner who worked as a Peer Partner in the Further Education room. I was amazed to learn about the many different courses being pursued by different prisoners. When he spoke about Open University (OU) I was intrigued. "We have guys here working towards degrees. Science, business, languages, literature, the arts; you name it, there's someone here studying it," he said.
I was sceptical as to whether this would be like a proper degree and I hadn't studied academia for a few decades so that was another concern for me. He reassured me that they were proper BS, BA, Honours degrees and that the OU has courses designed for the re-entry student.
The Peer Partner also told me about how I could access funding to study through Prisoners' Education Trust. He said: "Just fill out a form, write a letter and they'll most likely provide the funds to get you started. There are also student loans available. I'll walk about through the process of choosing a course and the forms involved."
I signed up on the spot. I decided to pursue a business degree to accompany my years of experience. I began to think of business opportunities I could start upon release. My future now didn't look quite as bleak.
But it wasn't as easy, studying while behind bars present several obstacles that needed to be overcome. For one thing, finding the time for coursework is a struggle. Prisoners need to work during the day. At Parc, prisoners are not paid to study distance learning courses. I had so juggle my studies around my job. Luckily, the Education Staff arranged for me to be interrupted one afternoon a week to use their ancient but serviceable desktop computers. There were also Peer Partners and other students on hand to guide me through OU study. I got some great tips on how to cope with the pressures of study while incarcerated. The staff and inmates gave me the confidence to pursue my studies.
My afternoons in the Distance Learning Unit became the highlight of my week. The conversations we had were far from the usual wing banter. Other inmates' wealth of life experience could be drawn upon when discussing academic theories or assignments. The words in the textbooks came to life.
I started off with an Access course on the environment. The subject matter was engaging, the study materials were great and the assignments were challenging. I soon found a study pattern that worked for me. I'd do my reading and note taking in my cell instead of watching TV and then do my assignments in the Distance Learning Room. The feedback I got from the OU tutors was encouraging. The Education staff provided ideas for further courses. I felt like I was a part of something.
The comments from other students echoed my own. "I don't feel like I'm in prison when my head's stuck into my OU course," said the 50 year old guy poring over his science equations.
"My folks are going to be so proud of me when I get my degree," said the 29 year old gym nut, three years into his business degree programme.
"I'm not going to let prison be the end of me. I'm going to make something of myself when I get out of here," said the literature student halfway through his first novel.
Somewhere along the line I had changed from a 'prisoner' to a 'student'. I had a new set of friends on the wing. I interacted with a different set of prison staff. My self-esteem began to grow. I was positively engaging with all aspects of the prison service. Education gave me that confidence to succeed.
After completing my Access module, I was soon stuck into the first module of my business degree. This was real work. I had to readjust my study patterns. I had to organise my time. Weekend morning were now about pouring a second cup of coffee at my desk in my cell and doing my reading for the week. Weeknights included going over my notes. I had to ask for a second afternoon in the Distance Learning Unit for my essay activities. I started to take advantage of the prisoner-accessible computer workstations during normal prison association. Deadlines had to be met.
One of the wonders of the studying with the OU while in prison is the visits from OU tutors. For someone like me who never has visits from family or friends, being visited by a learned tutor, one to one, in prison was indescribable. It's like the world hasn't given up on me. That's not to say the tutorials weren't anything but focusing in on the subject at hand. These visits bolstered my new identity as student with a future.
Despite some good grades, there were problems with my study. During my third OU module, I began to realise that perhaps business studies were the wrong choice. The truth is my mind had been broadened beyond just studying to gain employment. OU had sparked a curiosity about the world that I didn't know existed. After some soul searching with my fellow students, I had a chat with my prison education tutor about changing the course of my studies.
"You need to study what interests you," she said. "Prison education is not just about degrees, it's about how you spend your sentence. Any degree will give you valuable skills to help in gaining employment and building a new life. Immerse yourself in the subjects you are passionate about. We'll talk to OU and make it work."
That's how I embarked on my new studies in the social science. The tutors and OU put it all together, just as they said. I've finished the first module (with a distinction!) and will be starting the next one in the autumn. All combined, I've now completed the first third of an Open Degree. By the time I get out of jail, I'll be finishing up a BA degree with an option to continue to an honours degree.
I'm now employed in the prison as a Peer Partner for the further education department. I coach new students on planning their education and help with their studies. Every day I see the benefits of further education on students from all walks of life.
My talks with probation now focus my achievement in education and my positive outlook on release.
I believe there is a recipe for higher education in prison, a recipe consisting of: inspiration, opportunity, engagement and support. Inspiration consists of asking prisoners to consider further education, helping them take a long-term view on their education and life after release. Prisons can also provide opportunities to prisoners by offering many different study options, whether Open University, HND or specialist courses in a variety of subjects. Prisoners can be engaged with dedicated education staff and prisoner peer partners who can sympathetically assist with the challenges of completing studies while incarcerated as well as general study skills. Support can be in the form of supplying funding for courses, providing computers, and time to sue them, for assignments.
A unique situation at HMP Parc is a dedicated room on the enhanced wing furnished with a half a dozen stand-alone computer workstations that are available to students to use during their association/free time at nights and on weekends. This allows prisoners to go about their normal jobs in the prison while also completing their studies in their own time. I hope that whatever prison I am transferred to next has this same level support and further education focus to continue my positive momentum."