PET inspires learners at HMP Rochester
30 Sep 2014
PET's policy, media and communications intern Pwyll ap Stifin writes:
"I recently visited HMP Rochester, with PET's Access to Learning Team, to see first-hand how learners and staff benefit from the charity's expertise. Prison visits like this enable the team to offer prisoners, teachers and careers staff tailored advice about the wide variety of courses the charity funds, which supplement what is offered by the prison. John Lister, PET's Advice Manager and Suzan Nabbanja, Grants Programme Manager, arranged the visit to coincide with the prison's new strategy to improve its distance learning provision. The visit was split into two sessions, one in the morning and one in the afternoon.
Six prisoners were awaiting the team's arrival for the morning session and, after a brief introductory talk, Suzan and John met each participant individually, giving them tailored advice. The prisoners were a disparate group, with a range of educational backgrounds and ambitions; some had attained qualifications while in prison while others had gained A-levels, and one a degree, before their imprisonment. Some had clearly-formed ideas about the courses they wanted to study; others took advantage of the opportunity to talk informally about potentially suitable courses. When discussing options with prisoners, the team aimed to establish various factors affecting their suitability for different courses: their educational attainment both within and before prison, the remaining length of their sentence, their ambitions for the future as well as their level of motivation.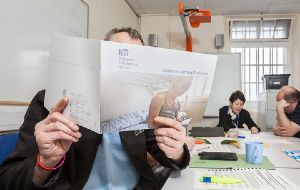 John said: "Providing advice to prisoners face-to-face is an important aspect of what PET does. Not only is it an excellent way of spreading awareness about a wide range of courses to help them through their sentence and leading to great career opportunities, but also through individual discussion with prisoners we can inform them about our processes increasing the chances that their applications will be successful."
The enthusiasm that Sarah Tranter, HMP Rochester's Learning Skills and Employment Manager brought to her role was clear for all to see, as was the good relationship that exists between the National Careers Service staff and the prisoners. As Sarah develops her plans to offer prisoners a wider variety of courses at different levels, it is hoped that events such as this one will spread interest in distance learning amongst both prisoners and staff. To help Sarah promote education opportunities further, John and Suzan left copies of PET's distance learning curriculum and a leaflet providing information about the availability and suitability of student loans for prisoners.
In the afternoon we met a further seven prisoners, who approached the session with the same enthusiasm as the morning group. Several now plan to apply for help from PET. Some of the most popular courses discussed during the day were:
BTEC Level 3 in Electrical Technologies, OU Access courses, BTEC Level 3 in Management, a Business Start-Up course, Level 3 Mentoring course, Webmaster Web Design and AS Level History.
Suzan said: "The visit to HMP Rochester was very successful. We met a number of enthusiastic prisoners and were able to advise them about which courses would be the best options for them to achieve their goals. One man in his 50s, who had worked as a casual labourer his whole life but never had formal qualifications to earn enough to support himself, was so encouraged by our visit that he put in an application to study a BTEC level 3 course in Construction Management. We've already approved the course and now he can work toward a qualification that will help him get a good job when he is released from prison."
Particularly striking was the obvious influence of other prison learners on those attending the sessions. One prisoner in particular described how inspired he was by his former cellmate who studied a degree, with support from PET. This positive influence is one that PET hopes to harness in future initiatives and is another benefit of the Access to Learning Team's visits. By providing information about distance learning courses with visits and individual advice, Suzan and John give prisoners the knowledge to tell their peers and spread awareness across the prison. The enthusiasm shown by the prisoners for the opportunities that distance learning provides indicates that they can be a powerful influence for strengthening the culture of learning inside the prison.