Blog: Don't judge a book by its cover!
14 Apr 2015
Nina Champion, PET's Head of Policy, blogs about a visit to HMP Holloway with author Ben Aaronovitch whose book has been selected as this year's City Read - a month dedicated to events and activities encouraging Londoners to read.
"'I know you shouldn't judge a book by its cover, but, well, the cover really doesn't show that this is a book about magic. I think it should be changed'. 'Yeah, it looks a bit like the start of Eastenders!', one of the members of HMP Holloway Women's Institute (WI) group told author Ben Aaronovitch on a visit last Friday (10th April). Luckily he had thick skin when it came to the brutal honesty of the group at a Q&A session as part of the as part of the City Read initiative.
City Read: One book. One city. One month
The idea of City Read is, as it says on the tin, to get the whole of the city reading and discussing one book – like a giant book club! It started in Cardiff and Birmingham, before coming to London three years ago.
The aim is to get people reading for pleasure. Throughout April 2015 there are events going on in libraries across all 32 London boroughs. Recognising that prisons are part of the community, Islington Library initiated the first author visit to the WI group at HMP Holloway last year for City Read and were keen to involve them again.
City Read books are all set in the city they are being read and this year's book is 'Rivers of London' by Ben Aaronovitch. Ben explained to the women that he is an introvert and spends 95% of his time 'in my own head' sat in front of a computer, so events like this were out of his comfort zone. That didn't stop the first woman from eagerly raising her hand and asking 'Your book is about the police .. have you had any interaction with the law?'. The women looked disappointed when he said the closest he had come was to roller skate into a police car in his younger years!
Author Q&A at HMP Holloway
Issues of diversity lead many of the discussions. The second question of the session was about his surname 'how do you pronounce it and where does it come from?' Aaronovitch explained his father was from Lithuania. A Nigerian woman asked him if he had ever eaten cassava leaves (in the book, one of the characters 'Mother Thames' and her daughter 'Beverley Brook' are Nigerian and the main character's mother is from Sierra Leone). The women were impressed that he had.
Ben explained that many of his friends growing up in North London were of Nigerian and Siera Leonian origin and so he had sat in many kitchens eating cassava leaf in his time. A lively discussion ensued about African cuisine. Perhaps some of the women were missing their native food after months of prison dinners. The significance of food as a reminder of home and as a central part of family memories was clear.
'Do you believe in ghosts?' one woman asked. Interestingly the author said he didn't believe in anything. He explained that before he was a best selling author he worked in Waterstones bookshop to pay the bills while he wrote. He worked in the sci-fi/fantasy and crime sections, so the idea for the book combining both genres was born there. He explained that he liked the idea of a working class hero who just deals with the vampires and supernatural beings and gets on with his policing without too much bother!
'Has your son been an influence on your books?' he was asked. Aaronovitch described his son as a 'terrible disappointment'. The women were visibly shocked, however he explained that he was hoping his son would be a good source of modern slang for him to include in the book, but says instead 'he is as nerdy and geeky as me so has been of no use!'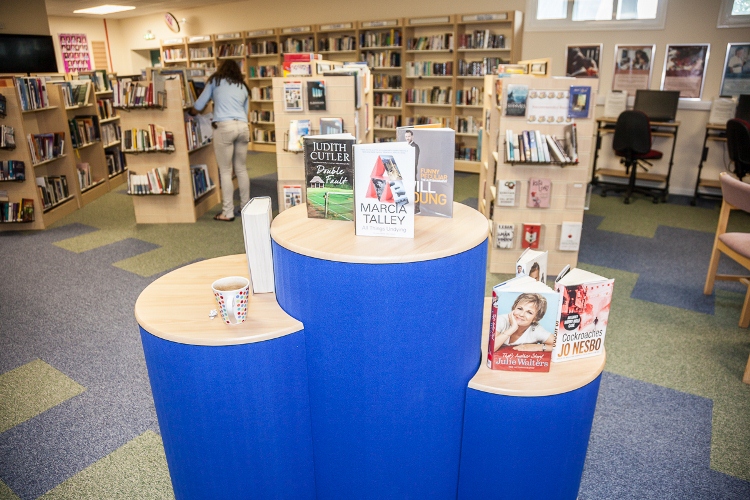 The women offered to help; 'just spend an afternoon here, we can give you some slang!'. He replied that he might take them up on that, particularly as a character in a later book in the series is actually in HMP Holloway. This news got the women very excited.. 'you need to get a tour of the prison', 'yeah, but get them to show you all the areas, not just the enhanced wing, you need to see the seg and girls on basic'.
One woman suggested that his character could be sent to the seg (they explained that meant segregation unit) and be woken up by the Holloway chickens. Ben loved that idea and grabbed a pen and paper. He explained that when it comes top researching about something or somewhere you don't know, you need to find that 'telling detail' to drop in, like the Holloway chickens!
Top Tips for writers
Some of the women wanted advice about reading, writing and publishing books. Ben said:
"Write about what you are interested in and what you want to read – you have to write for yourself.
If you read a book and the first two pages are bad, trust your instinct – there are plenty of books, pick another!
Always record your research conversations rather than writing notes – I'd get home and not be able to read what I'd written.
If possible get a transcribing service – I still have tapes of research interviews I never got around to transcribing myself!
Be organised – set yourself deadlines. Most other authors I know write books in six months, it takes me about a year because I'm not organised and I procrastinate!
Some authors set themselves 1000 words to write per day and have a 9-5 working schedule; I write about half of that as I don't have a working week schedule, I write at times when I feel like it.
If no-one will publish your book, think about self publishing on the internet – it didn't do Fifty Shades of Grey any harm!"
It was an inspirational session. Ben explained that he had struggled at school and there was a time in his life, a few months before he had his first book published, when he had been 'really poor' and some people had 'kicked him on the way down'. But he didn't give up and has had the last laugh.
He explains that his journey has made him really appreciate the fact that now he does what he loves for a living and that he wakes every morning thinking 'yay, I'm a best selling author!'.
His last plea was 'I don't care if you read my book, just read any book!'. As the women filed up to get their books signed, Ben bantered and joked with them as he had in the Q&A. It had been his first visit into a prison and I think the lesson he learned was also not to judge a book by its cover."
PET provides men and women in prison with creative writing, journalism and English literature distance courses. To support us visit our Donate page.
PLEASE NOTE - These stock images and are not of women at Holloway.