Prisoners' views of education: new report
24 Sep 2014
A new report from the charity Prisoners' Education Trust (PET) offers a rare insight into prisoners' views on education and finds that learning in prison could and should do more to help prisoners progress beyond basic skills.
PET says its report, Brain Cells: Listening to Prisoner Learners (Third edition), based on a survey of 340 prisoners, offers strategic recommendations to meet the needs of all learners.
In the report's foreword, the Rt Hon Lord Harry Woolf, writes:
"It is essential that all prisoners, but especially those serving significant sentences are encouraged to make as constructive use as is possible of periods spent in custody. Learning can be the most constructive way to do this. It can help prisoners cope with imprisonment, maintain well being and achieve the skills that will assist them to lead a lawful and useful life after release."
This report is the third in a series of bi-annual Brain Cells reports, although the latest report found some small improvements compared with previous editions, education in prison was still not supporting progression, despite government evidence proving that studying higher level courses reduces reoffending by more than a quarter.*
Rod Clark, Chief Executive, Prisoners' Education Trust, said: "Brain Cells shows that unfortunately there are many examples of wasted resources and missed opportunities in the state's delivery of prison education. We know the government values education. That is commendable and welcome, but overall, the policies are not doing what works to reduce reoffending. Learning to read and write is very important; but people also need to be able to progress and doing so, gives them the skills employers are looking for.
"This report is published at a time when inspection reports and news coverage shows that staff cuts are making it harder for teachers and education managers, especially when the officers aren't there to escort prisoners from their cells to class. But education must be prioritised as it is more productive and cost-effective than leaving people to do nothing.
"As the government launches unprecedented changes to probation under a new rehabilitation agenda, it must not solely focus on the short term, a strategy needs to look at quality education programmes for people serving longer sentences too."
In addition to reducing reoffending in the long term, the report reveals that education can improve people's safety, mental health and well being in custody.
"Keeping my mind occupied helps to lessen the frequency and severity of my bi-polar. This in turn means that I am more able to cope with the stresses of prison life. My studies may well have saved my life," says a prison learner.
Profile of respondents: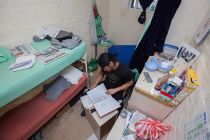 The largest group of respondents (30%) are people serving life and indeterminate sentences (IPP). While the majority are white (83%) and men (92%), the analysis from the remaining Black, Asian and minority ethnic (BAME) respondents (17%), women (7%) and young people (6%) show that their needs are also not being fully met.
As one said: "I feel that the learning needs of prisoners are limited because of the short courses done here. If you are 18 and just been sentenced to a long time you could complete all the courses before you are 20."
Survey findings:
80% said they had GCSEs and/or A-levels when they came into prison
41% said state prison education courses are not available at a high enough level
BAME prisoners were more likely to have prior qualifications but less likely to learn in prison
Women were educated to higher levels prior to prison and achieved well during their sentences but said courses were not available at high enough levels
The majority of 18-21 year olds gained level 2 qualifications in prison but learning dropped off by 70% when progressing to level 3 and beyond
28% said they have a learning difficulty or disability (66% of them had received no support for this).
58% said they have not received any support for distance learning
83% said access and support for the Virtual Campus (education intranet) was poor.
When asked why people wanted to learn, 81% said they wanted to occupy their time usefully; 71% to gain qualifications and 70% to improve job prospects
69% of respondents said learning had improved their ability to cope with prison
Removing barriers to learning:
The report outlines ten recommendations for prisons and policymakers better to meet the needs of all learners, which in turn will make them less likely to commit crime in the future. For longer-sentenced prisoners it argues that a strategy be developed and time restrictions should be lifted so all prisoners can study degrees. And as one of the respondents said:
"When I first got a life sentence I thought it was the end of the world. Then I decided to use my time to better myself. Now I am on my second year doing a degree in sociology."
The report recommends responding to prisoners' frustrations about the lack of courses and levels on offer by appointing a distance learning coordinator in each prison to support and advise students about progression, charities offering funding and using Release On Temporary Licence to go to college where appropriate.
Brain Cells further suggests a coordinated ICT strategy to improve use of computers, the prison's Virtual Campus system and to provide more e-learning resources.
Since the survey was carried out last year, new policies have been rolled-out restricting prisoners' access to books. As the report reveals 58% of respondents felt better access to books would help them learn, PET would like the restrictions to be reviewed. Further, considering prisoners now have to pay for books and essentials because family members cannot send them in, PET calls for equal wages for study and work, as 56% of respondents said that would make learning easier.
Editor's Notes
Download the full report Brain Cells: Listening to Prisoner Learners (Third Edition), September 2014
*Source: Ministry of Justice, Data Lab report, on Prisoners' Education Trust, January 2014
For interviews, photos or further information from PET please contact Susannah Henty (PET), Media Manager: Susannah@prisonerseducation.org.uk; 020 8648 7760 or visit www.prisonerseducation.org.uk
About PET
Since 1989, Prisoners' Education Trust (PET) has supported prisoners to engage in rehabilitation through learning. The charity does this by providing advice and funding for approximately 2,000 people per year for distance learning courses in subjects and levels not generally available in prisons. PET also carries out research, informed by prisoner learners, to improve prison education policies.