Distance learning courses
There are over 200 courses prisoners can choose from, depending on their interests, career plans and personal aspirations.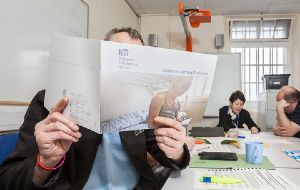 Our distance learning curriculum, acts as a guide to courses from preferred suppliers that we can recommend with a degree of confidence following an evaluation process. We have comprehensively assessed every course that could be done by distance learners in prisons, and as a result we were able to recommend those courses with the best accreditation and best tutorial support (according to user feedback).
The curriculum is distributed throughout the prison estate and we were told by both prisoners and the prison staff that it was very useful in helping them to make sense of the opportunities available.
Courses are available in a wide variety of subjects at a range of levels. Clearly care must be taken to consider the applicant's level of ability when choosing a course. If you work in a prison and have any queries about course choice or learning progression or would like to order copies of the curriculum please email our Advice Manager, John Lister, give us a call on 0203 752 5680, or write to us using the freepost address: FREEPOST PRISONERS' EDUCATION TRUST.
Every month in Inside Time - the national newspaper for prisoners and detainees we introduce a course and give a brief introduction to it. Below you can see a few of our courses!
...