Prison hosts social mobility debate
Article written by a prisoner at HMP Pentonville:
"...So we passed, handcuffed and in silence, through the streets of Washington, through the Capital of a nation, whose theory of government, we are told, rests on the foundation of man's inalienable right to life, LIBERTY, and the pursuit of happiness! Hail! Columbia, happy land, indeed!" Solomon Northup, Twelve Years a Slave. The original and most profound social climber, whose life has recently been brought to the cinematic screen in "12 years a Slave", would have shuddered in his grave if he knew that almost 200 years later, this equal opportunity debate still strokes the furnaces. A paradigm that should have been the diamond of socio-cultural achievement is still the equivalent of brown coal polluting the essence of so called "civilization" to which Solomon Northup was accepted into and has long since departed. He may be an Oscar winner sooner than the fruition of his dream. This issue was underlined by the debate which took place on the 27 November 2013 at HMP Pentonville, planned and organised by a group of prisoners, and coordinated by Jose Aguiar, Prison Educator (right).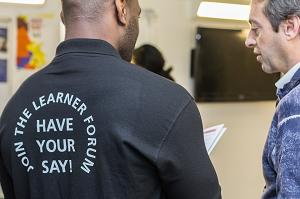 "The project aims to provide a unique opportunity for prisoners to assume responsibility for the organisation and running of an event that involves issues that matter to them, and be active citizens while in prison" says Jose.
A wide range of speakers were invited, perhaps best exemplified by the approach to a question regarding the State's responsibility in facilitating social mobility. On one hand, Mark Blake, Development Officer, at the Black Training and Enterprise Group (BTEG) chose to push the agenda towards improving education and skills in ethnic communities, whereas Andrew Ward (HKBFinn) who is a 20 year old veteran of spoken word poetry and jazz took a more holistic view and suggested that apart from technical skills, there was a need to adjust the state of mind in BAME communities and the goal should be to generate a belief that success was within reach. Hugh Muir, The Guardian's diary Editor, weighed in with his own experiences and the distinct recollection that as he climbed the journalistic ladder, there was a scarcity of colour in offices, which he felt created a feeling of daunting that had to be overcome in one's self if one wanted to break through these barriers.
In general the panel pushed an Obama-like "Change Gonna Come" mandate against a tide of fiendish questions, such as: "Why has the Windrush generation been overtaken by ensuing ethnic diasporas to this shore?" "Is social mobility viable despite statistics indicating a widening gap between rich and poor?" "Why aren't there Bill Gates-like philanthropists amongst the successful entrepreneurs in the Black community?"
With a predominantly black audience, the panel were going to have to earn their stripes in convincing the listeners that there was light at the end of what it seemed a long dark tunnel. From the congregations' appetite for her answers, it seemed that Rioch Edwards-Brown, TV expert and social entrepreneur, shone an aspirational beacon that the packed attendees could reach for. With a regalia of anecdotes and experiences she had fought to overcome, Rioch drew consistent rounds of applause as she commented about overcoming sexual abuse, colour barriers, anti-female prejudices, and the loss of a child, to start an organisation that was successfully giving back to the Black community. Indeed, community was the buzzword of all the panellists, who stressed that "raging against the machine" was a valid cause, however even more astute was "charity starts at home".
Perhaps a good note to close on were the thought provoking words of Peter, prisoner and chair of the panel, who summarised by saying: "Just because these questions are being asked, does not mean there is an easy path to implementing the answers. To me success is self-determination and an ability to define our lives and our future in-house, rather than to express ourselves on the political landscape".